Price trend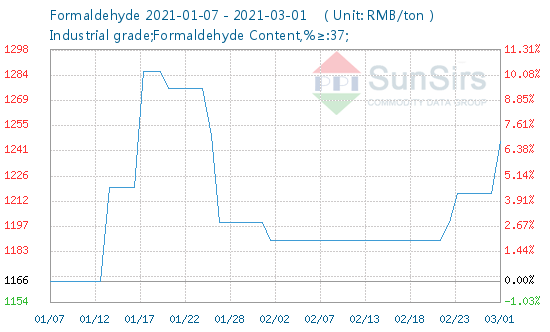 According to data from SunSirs'Commodity List, the Shandong formaldehyde market has recently increased. On February 28, the average price of Shandong formaldehyde was 1,216.67 RMB/ton, and on March 1, the average price of Shandong formaldehyde was 1,246.67 RMB/ton, an increase of 6.86%, and an increase of 17.61% year-on-year.
  Analysis review
  Recently, the domestic formaldehyde market price has risen. As of March 1, the mainstream ex-factory price of formaldehyde in Central China was around 1,130 RMB/ton, the mainstream formaldehyde manufacturers in North China were quoting 1,060 RMB/ton, and the mainstream formaldehyde ex-factory quotations in East China were 1,211 RMB/ton. Shandong Linyi Yinhe's 120,000-ton/year formaldehyde plant has been restarted. Recently, the formaldehyde factories in Shandong are under construction one after another. Formaldehyde manufacturers deliver goods according to orders, the inventory is low, the market trading atmosphere is gradually improving, and the industry promotes the rise of the formaldehyde market.
  Upstream methyl alcohol situation: The offer price of methyl alcohol in the southern area of Shandong increased by 10-30 RMB/ton to 2,250-2,270 RMB/ton, and the negotiated price was around 2,250-2,260 RMB/ton. The negotiated price of local goods in Linyi wa 2,250-2,260 RMB/ton, and the quoted price of logistics goods wa temporarily unavailable. The methyl alcohol market in central Shandong was negotiated at 2,110-2,150 RMB/ton. There was no obvious transaction, and most of them wait and see. The methyl alcohol market rose within a narrow range, which can form a certain support for the formaldehyde market.
  Recently, the weather has picked up and workers are returning to work at an accelerated pace. The downstream board factories in Shandong are continuing to resume production, and the demand for formaldehyde is improving, which is good for supporting the rise in the formaldehyde market, and the market buying and selling atmosphere is good. The formaldehyde market continues to rise.
  Market outlook
  Recently, the upstream raw material methyl alcohol is showing an upward trend, and the cost support is strong. The demand of downstream plate factories continues to improve. Therefore, the formaldehyde analyst of SunSirs predicts that the price of formaldehyde in Shandong will increase mainly in the near future.